Fujitsu AA 2550mAh 500 Cycles High Capacity Ni-MH Pre-Charged Rechargeable Batteries 4 Pack
4-Pack AA 2550mAh (Min. 2450mAh)
Rechargeable up to 500 times
Low self-discharge - Retains 85% after 1 year of storage
Suitable for low temperature as -20 Degree Celsius
Website secured with SSL Technology
Shipping in 24/48 Hours
Exchange in store and online
Description
Enjoy power-shooting when using to power your camera and other energy hungry devices. With a typ. capacity of 2,550mAh, the Black model is FUJITSU's longest lasting battery.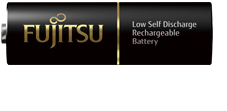 The battery of choice for high drain devices, the Black model lasts 25% longer compared to FUJITSU's White model.
Recommended device current

Conventional rechargeable batteries lose their energy daily, but not FUJITSU high charge retention batteries. They're ready to use, even after 1 year storage.
Remaining energy after 1 year storage

With almost twice the amount of flashes per charge vs. FUJITSU Standard model, the Black model frees up time and increases productivity.