APC 12 Outlets Powerbar Surge Protector with 8FT Cable
Website secured with SSL Technology
Shipping in 24/48 Hours
Exchange in store and online
Description
Overview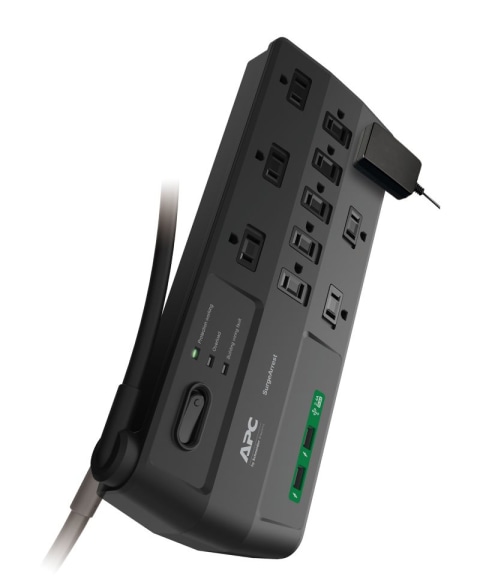 APC P11U2 SurgeArrest
Reliable and Safe Protection from Lightning, Surges and
 Spikes


Be it a lightning strike that destroys a home entertainment center or consistently fluctuating power that degrades the performance and shortens the life of your electronics – surges, lightning, and other power disturbances can have a devastating impact on the valuable electronics you rely on every day. The P11U2 offers guaranteed surge protection from the most trusted power protection company in the industry, APC by Schneider Electric. Connect and protect up to 11 electronics, and conveniently charge your mobile devices via 2 additional USB ports. Installation is convenient and easy with a 180-degree rotating power cord and right-angle plug. Lastly, three LED indicators inform you if there is any overload, unit, or wall wiring issues.

As one of the world's largest and most respected power protection designers and manufacturers, APC is relied upon daily for power protection and availability. APC products offer the maximum level of protection, safety, convenience, and reliability.
What's in the Box:
APC P11U2 SurgeArrest and power cord.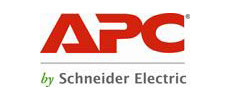 P11U2 SurgeArrest
At a Glance:


Protect your devices from surges and spikes
Full warranty and $100,000 Equipment Protection Policy
5 regular and 6 transformer-spaced outlets for oversized plugs
Conveniently charge your mobile devices via 2 USB charging ports
Flexible installation through a 180-degree rotating power cord with right-angle plug
EMI/RFI noise filter for better performance of protected equipment
2 LED indicators warn of unit and wall wiring issues
3 LED indicators warn of overload, unit, and wall wiring issues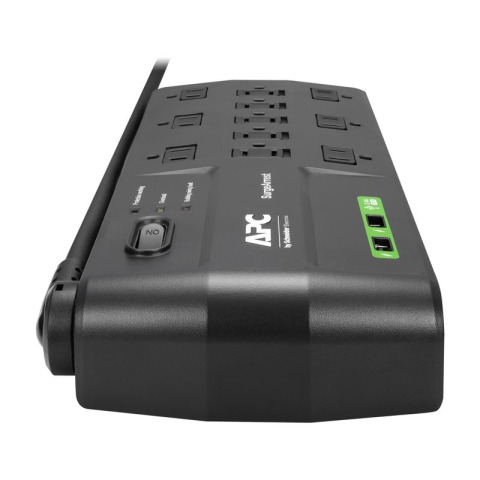 Reliable Power Protection
The P11U2 uses state-of-the-art circuitry to protect sensitive electronic equipment from dangerous power surges and multiple surge events-even lightning. Its eleven outlets and two USB charging ports allow you to power multiple devices simultaneously while keeping them protected during the process. The P11U2 also offers transformer block spacing for six outlets, so you can connect bulky transformers without covering other outlets.
Convenient and Safe for at Home or in the Office
The APC P11U2 has a 180-degree rotating power cord with right-angle plug that enables placement of equipment and furniture close to the wall of your home or office. It also reduces cord stress and extends the life of the power cord and surge protector. The sliding safety shutters on each receptacle protect children and adults from accidental contact with unused outlets.
Ensures Maximum Audio/Video Performance
The noise filter of the P11U2 surge protector/charger reduces electromagnetic interference (EMI) and radio frequency interference (RFI) to block unwanted line noise, thus ensuring better performance of protected equipment. It also helps prevent equipment lockup.
Data sheet